Social, Emotional, Mental Health and Well-being
Supporting the Social, Emotional, Mental Health and well-being of the children and adults connected to Millfields is at the forefront of everything we do.
We believe it is important that every child knows we care about every aspect of their lives and that we are here to care for them and nurture them without passing judgement, in a positive, caring and constructive way.
We take the well-being of our children very seriously and fully understand that if a child is feeling anxious about something in their lives, they may not be in the right frame of mind to be able to learn. We have staff who are qualified as licensed Thrive TM Practitioners to help support children who find it difficult to cope with their anxieties and particular behaviours which are showing us they may need extra help and support.
We are proud to say that we are an Attachment Aware School, which means all staff have a had a high level of training to support children who may have difficulties to form relationships with other adults or peers for a number of reasons. See the links below:
https://www.mentallyhealthyschools.org.uk/resources/attachment-aware-schools/
Independent thinking for mental health
Children are encouraged to think about looking after their mental health and well-being in a number of ways; through our PSHE curriculum (Personal, Social, Health Education), Thrive TM sessions and whole class Thrive TM assemblies and through our whole school approach to The Zones of Regulation TM.
The Thrive Approach: Follow this link for more information on The Thrive Approach: www.thriveapproach.com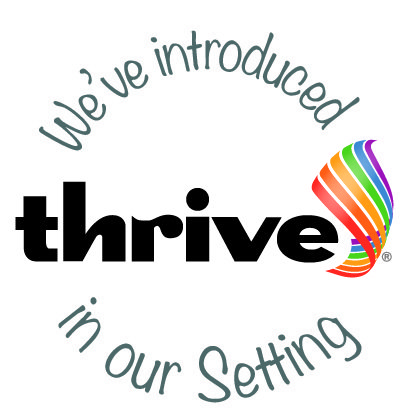 The Zones of Regulation
The Zones were developed by Leah M Kuypers, a trained Occupational Therapist to help young people with ASC (Autistic Spectrum Conditions) to help identify and regulate their emotions. We use them across the school as a tool for all children and adults to help us recognise how we are feeling and touch base with ourselves and each other and give or seek support. follow the link below to find out more, or ask a member of staff in school.
https://www.zonesofregulation.com/index.html
Mindfulness
When we teach mindfulness to children, we are giving them the tools they need to build confidence, cope with stress, and relate to uncomfortable or challenging moments. The earlier we do so in their young lives, the greater the opportunity to help them cultivate resilience and build on their self-belief and growth mind-set.
The following link is a great place to start:
ELSA Support
ELSA Support is a website which provides downloadable resources that support the teaching of emotional literacy or emotional intelligence. There are some brilliant free resources available.
Mental health and Well-being: seeking support
If you do have concerns regarding your child's emotional or mental health there are a range of options we can share with you to help you support your child. All discussions and referrals are completely confidential. Contact your child's class teacher or Mrs Russell for more advice.
krussell@millfields.essex.sch.uk
Millfields is part of the Mid-Tendring Academic Partnership (MTEP) and we can refer to them for help for children and families for a range of services, including counselling, play therapy and family support. For more information on MTEP follow the link: https://midtendringeducation.com/
The Emotional Well-being and Mental health Service (EWMHS) is another vital service for supporting young people's mental well- being. Anybody can contact them directly for support, including children: https://www.nelft.nhs.uk/services-ewmhs/
Childline is a fantastic support network for children and families. https://www.childline.org.uk
Here are some Childline relaxation games and links which may help – there are a lot more on the Childline website:
https://www.childline.org.uk/toolbox/games/balloon/
https://www.childline.org.uk/toolbox/art-box/
Essex Wellbeing Service
The Essex Wellbeing Service supports families across Essex with a range of advice, guidance and support on issues to do with health, mental-health, wellbeing and day to day needs. You can contact them yourself or ask someone from school to give you support.